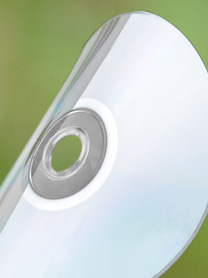 DVHD
data, audio, video, multimedia ...
DVHD
We are pleased to inform you that after many years of video cassettes production, in June 2006 we started a conquer in optical media. We deal with audio-video replication in formats CD, VCD, DVD5 and DVD9. Since September 2007 we started extensive production of a new DVHD format.

DVHD is an abbreviation from DISC VERSATILE HIGH DENSITY. New DVHD format is capable of storing high amount of digital, either video and audio files. These undoubtedly new world technical solutions for optical media place our new format in the top places of the XXI century technology.

DVHD use the same optical storage technology as DVD format. The information is encoded in the way of microscopic tracks on the surface of the plastic disk, which appear during material injection process. In the production process we receive single one-layer, 0.6 mm thick disk capable of storing up to 4.7 GB memory. Next, the side with the technologically injected material is coated with a thin layer of aluminium and then a protective lacquer coating. The last production procedure is printing on a disk surface. DVHD format is read by a semi-conductor laser with the wave 635-650nm long which makes it compatible with all DVD formats. For DVDs the wave length is the same.

This format, thanks to its structure include many unique advantages, which do not appear in the other formats.

They are:

absolutely competitive price,
small thickness- only 0.6 mm,
elasticity,
break-resistance,
scratching-resistance,
resistance to children's use,
cheap shipment costs (post or other transportation companies),
excellent magazine product (it does not break during the transportation),
eco-friendly,
compatible with all DVD devices,
high storage capacity - 4.7 GB
one-sided reading, the capacity equal of 7 CD-ROM
possibility of manufacturing of DVD-Audio disk.
What is more, we can boast of an exclusive permission for manufacturing of this format. We- as one of the first in the world- took upon ourselves indroducing this new technology to the market. If you are interested in the new format or have any doubts, queries we will answer with pleasure!


Print on template:




It is very important for the label to be ideally centered!
All artwork must be exported into a PDF 1.4 format.