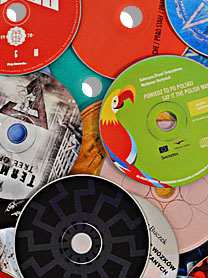 CD
cd-data, cd-audio, vcd ...
CD
CD is an abbreviation from Compact Disc. Nowadays, CD is a popular optical data medium. CD disk allows for the distribution of musical recordings, computer data, video images, games or other applications. The capacity of standard CD disk is 700 MB (79 min, 54 sec.). The disk has a diameter of 120 mm, it is 1.2 thick and the average weight is 15 g. Moreover, there are also Mini CD disks with the diameter of 80 mm and business cards in the shape of a rectangular.

Types of CD disks:

CD-Audio - sound in PCM format (up to 80 min)
CD-Data - computer data, programmes, files (up to 700 MB)
CD-Video - video in MPEG-1 format (up to 80 min)
CD-Extra - connection of the CD-ROM and CD-AUDIO formats
CD-8 cm - mini disk with the diameter of 80 mm (185 MB of files)


CD Card - multimedia business card – mini disk CD in the shape of a rectangular. It allows for video recording and audio presentation. CD business card may include mainly photos, texts, sound tracks, computer programmes, animation prepared in flash technology, dynamic connection to the website and trade gadgets. The whole may be connected in an interactive multimedia show. The idea of the business card is creating a modern image of the company as well as of the individuals.


Print on template:



It is very important for the label to be ideally centered!
All artwork must be exported into a PDF 1.4 format.