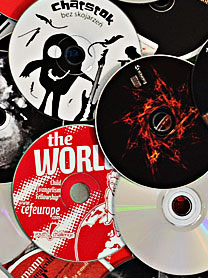 DVD
dvd-data, dvd-video ...
DVD
DVD (Digital Versatile Disc) is the next technological invention after CD format. It is also an optical data medium. In the mind of the inventors- DVD format- was created for digital record of video material. However, still increasing need for media of a greater capacity made DVD an universal format. DVD disk offers a higher capacity (from 4.7 GB to 17.1 GB) for multimedia, video images, games and sound recordings. As far as the size and shape is concerned, it does not differ from CD, however the difference in physical structure and capacity is visible.

Main DVD format features are:

Dimensions of the disk with accordance to CD, with the only exception that DVD is composed from two halves 0.6 mm thick stuck together.
Different structure solutions: one-layer disk, one- and two- sided two-layer disk.
Maximum capacity of 4.7 GB per layer, 8.5 GB per side.
Analog and digital inbuilt protection against coping
Main division of DVD
DVD
formats:
DVD 5 - one-layer, one-sided, capacity of 4,7 GB
DVD 9 - two-layer, one-sided, capacity of 8,5 GB
DVD 10 - one layer, two-sided, capacity of 9,4 GB
Medium types:
DVD-Data - computer data, programmes, files.
DVD-Video - video in MPEG II format, multi-channel sound, subtitles, menu.
DVD-Extra - connection of DVD-VIDEO and DVD-ROM formats.
DVD-Audio - multi-channel sound in PCM 24 Bit 96 kHz format, Dolby Digital* or DTS*.


Print on template:



It is very important for the label to be ideally centered!
All artwork must be exported into a PDF 1.4 format.